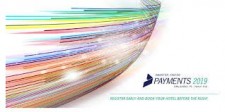 NEW YORK, May 3, 2019 (Newswire.com) - E-Complish, a provider of customized payment processing solutions, has announced that it will be exhibiting at PAYMENTS 2019, the Smarter.Faster.Payments conference. Sponsored by NACHA — The Electronic Payments Association ® and expected to host representatives from more than 340 financial institutions, the conference is slated for May 5 through May 8 at the Orlando World Center Marriott in Orlando, Fla.
E-Complish will showcase a variety of innovative payment solutions at Booth #924, on an interactive expo show floor that will feature an Innovation Hub, the Corporate Learning Center, and the Smarter. Faster. Payments Zone. The company's menu of solutions ranges from web- and SMS-based products to interactive voice response (IVR), recurring payment, ACH, credit card processing, and e-signature options and beyond. All are designed to enable enterprise-level organizations, large companies, small businesses, and municipalities alike to quickly implement payment technology and process payments rapidly and securely, in turn, meeting the needs of their customers.
E-Complish executive team members attending the show include Greg Gaines, director of compliance and customer service; Bill Pette, director of business development; and Amber Capece, director of quality assurance. "We look forward to meeting with PAYMENTS 2019 attendees to truly explore how they can best leverage the breadth of existing and emerging payment opportunities," Gaines said, adding that E-Complish, an affiliate member of NACHA, will also attend the PAYMENTS 2020 conference next year.
PAYMENTS 2019 is anticipated to unite thousands of payment system stakeholders representing business end-users and financial and technology services organizations alike to discuss and delve into the more pressing issues impacting payments today. In addition to the expo floor, attendees can take advantage of a wealth of concurrent sessions and workshops featuring payments and innovation experts. A showcase comprising pitches from solution providers of next-generation products, scheduled for Monday, May 6, is part of the conference program as well.
Networking opportunities will also abound at PAYMENTS 2019. These opportunities are geared especially toward executives and senior-level payments professionals from all macro environments, among them fintech, financial services, and corporate. In all concurrent workshops and at each event that makes up the conference program, attendees will be able to move beyond the hype, garnering a real understanding of the breadth of faster payment solutions and how these solutions can have a positive impact on their operation. Meaningful takeaways from the sessions and the strategists and innovators present at the conference will lead to better shaping of end-users' menu of payment options and improved, informed decision-making.
"PAYMENTS 2019 is an event that's not to be missed," Pette said. "E-Complish intends to participate in this conference with an eye toward the future."
Source: E-Complish, Inc.
Share: